Love's Nest
Jump to navigation
Jump to search
Love's Nest

Love's Nest eBook Reissue Cover,
written by Marisa Chenery
Author(s)
Marisa Chenery
Publisher
Liquid Silver Books
Forever More Publishing (Reissue)
Publication date
April 12, 2010
September 12, 2013 (Reissue)
Media type
eBook
Length
23,000 Words
ISBN
9781927859117
ASIN
B0040GJ9VQ
For other uses of the word Succubus, see Succubus (disambiguation).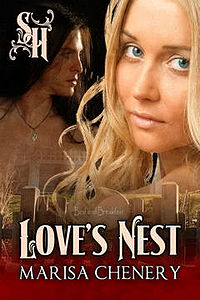 Love's Nest is an eBook written by Marisa Chenery. One of the main characters in this story, Lilin, is a Succubus that owns a bed and breakfast hotel. Within this word she becomes romantically involved with a werewolf and the story unfolds.
Overview
Title: Love's Nest
Author: Marisa Chenery
Published By: Liquid Silver Books & Forever More Publishing (Reissue)
Length: 23,000 Words
Format: eBook
ASIN: B0040GJ9VQ
IBSN: 9781927859117 (Reissue)
Publishing Date: April 12, 2010
September 12, 2013 (Reissue)
Plot Summary
Lilin, the owner of Love's Nest a B & B in Strange Hollow, always knew her mate would be a werewolf. As a succubus who had been born beautiful instead of ugly, and her refusing to seduce men to steal their energy, she was disowned by her family. When a new werewolf comes to town, she knows he is the one for her. Even though he displays all the signs of his mating urge kicking in when around her, he refuses to claim her as his. Not willing to let him get away, Lilin has a few tricks up her sleeve to get him to change his mind.
Galen had come to Strange Hollow to start out fresh. His nose has been the bane of his existence. Whenever he meets a woman he is attracted to, his nose tells him she is the one meant for him. Only after he has slept with her does he find out she isn't. Not wanting to take a chance that she isn't his mate, Galen had made it a practice to seduce every woman that set off his mating urge. Of course, it caused more problems than not with the rest of the male werewolves in his pack. Deciding to go lone wolf to get away from his problems, Galen tries to fight his mating urge when he meets Lilin. Knowing she isn't really his mate, he tries to resist her. But the question is, how long can he stay strong when the woman he wishes was his does everything she can to get him into bed?
Book Review
At the time of this article's entry in the SuccuWiki, no review was available. Tera has this work on her reading list and will review it shortly.
External Links