Elf Only Inn (Webcomic)
From SuccuWiki - The Wiki of the Succubi
Elf Only Inn



Advertising Banner for the Elf Only Inn Webcomic

Author
Josh Sortelli
Website
elfonlyinn.net
Current status / schedule
Abandoned
Launch date
May 23, 2002
End date
May 5, 2008
Genre(s)
Fantasy
Rating(s)
All Ages
For other uses of the word Succubus, see Succubus (disambiguation).


Elf Only Inn was a webcomic series created by the author and artist Josh Sortelli on the Keenspot website. The first comic appeared on May 23, 2002 and was updated at irregular intervals, although generally it updated Tuesdays and Thursdays, and many hiatus periods until May 5, 2008 when the series came to an abrupt end. The series focused on Internet roleplaying chatrooms, where all the screen names are "characters" interacting in a fantasy world created within them. The characters in the series were users entering from other chatrooms and interacting together at the Inn. The series cast, Duke, Megan, Woot, Nimoy and others interact in the make-believe world of Elf Only Inn as portrayed in the webcomic. The characters themselves can be just about any kind of fantasy role playing character that can be imagined. One of the cast, named Lilith_123, is described as being a shape shifting Succubus.
Series Information
Title: Elf Only Inn
Artist: Josh Sortelli
Writer: Josh Sortelli
Status: Abandoned
Began: May 23, 2002
Ended: May 5, 2008
Rating: All Ages
Website: http://www.elfonlyinn.net/
Lilith_123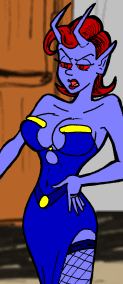 Name: Lilith_123
Character: Shape-shifting succubus
Background: Lily came to Elf Only Inn from the Deamon Citadel chatroom, which is described as being an old folks home for super-powered godmoding evilniks. She had been one of the respected members of the room until she overheard Megan, the co-hostess of Elf Only Inn, making rude comments about the intellectual capacity of demon chat. In retaliation, she set out for the Inn to humiliate Megan. Lily has no equal as a wicked online seductress. In a few weeks she had cowed or dismissed the tougher male demon characters and had befriended or seduced all of Megan's friends. However, Megan managed to turn the tables on her in the end and their rivalry came to a halt with an anti-climatic RPG battle. Lily changes her outward appearance more than any of the other characters, but beneath the facade she's always the same devil in a blue dress.
External Links