Hot, Hexed, and Bothered (eBook)
Jump to navigation
Jump to search
Hot, Hexed, and Bothered



Hot, Hexed, and Bothered Reissue eBook Cover, written by Lori Green

Author(s)
Lori Green
Publisher
Noble Romance Publishing
Marinated Publishing (Reissue)
Publication date
June 3, 2011
June 5, 2014 (Reissue)
Media type
eBook
Length
95 Pages
ISBN
9781605922775
ASIN
B0054E8TSC
B00KSUAG6U (Reissue)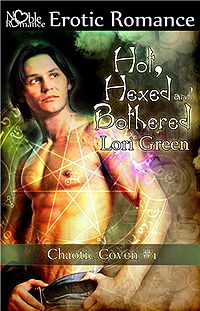 For other uses of the word Incubus, see Incubus (disambiguation).

Hot, Hexed, and Bothered is a eBook written by Lori Green. In this work the character Urian is described as an Incubus with many of the same abilities, if not acting in the manner of a traditional one.
Plot Summary
Title: Hot, Hexed, and Bothered
Author: Lori Green
Published By: Noble Romance Publishing & Marinated Publishing (Reissue)
Length: 95 Pages
Format: eBook
ASIN: B0054E8TSC,B00KSUAG6U (Reissue)
IBSN: 9781605922775
Publishing Date: June 3, 2011, June 5, 2014 (Reissue)
Plot Summary
Hell just isn't what it used to be. When witches Caryl and Mikki travel to Hell to rescue an incubus, they discover that nothing really is what it seems. From wickedly sexy Destroyers to Satan's overly-innocent efficiency expert, these witches might be over their heads in the hottest trouble Hell can show them.
Book Review
The following review was published by Tera on her Blog - A Succubi's Tale on January 1, 2012

I find it difficult to write stories that have a good deal of silliness and laughs in them. That's because to find a balance between telling a story, keeping some tension in it, and not lose the laughter is not an easy goal to accomplish in writing I think.
This work really has a lot of silly moments in it. When the world of the devils appears, the characters are not at all what you would expect, the situations are so weird and unexpected. It's hell, but a hell that is twisted through a funhouse mirror and that makes for a story that does have laughs and giggles throughout.
But here's the thing. There is, I think, a bit too much silly for the serious moments that arrive to confront the characters. That is to say that having a moment of insanity meeting a really seriously bad thing that might happen to the characters is jarring at times.
Getting to the incubus in the story, I found him to be not so much an incubus as a very naughty devil in both the devil world and otherwise. There isn't much sex to speak of in the story and what little there is, isn't anything inspiring really…
Mostly it is a quick look at the aftermath or interrupted moments of pleasure that serve to drive the characters a little nutty. But since they are in sort of a personal hell, that has to be expected doesn't it?
I found the story to be somewhat difficult to read through, I stopped several times in order to get my mind around what the characters were getting into and why. For example at one point they visit a McDonald's in order to get into the underworld which to me was just odd and honestly started the spiral into weirdness that the characters face.
Overall, I can't honestly say that I liked the story. I just found the frantic actions of the characters, the infighting and the almost air-headed thoughts of two of the witches bothered me more than I would have expected.
I also have to admit that the appearance of the Incubus in the work seemed to be almost as an aside. Now I can understand that because the story was about the witches and the demons, devils and the incubus were supporting characters. And that's fine, that was the point of the story. But I found that I didn't care about the witches all that much and by the end I didn't care about any of the characters at all which was disappointing to me.
I'll give this work two and a half pitchforks out of five.
Just didn't meet my expectations I'm sorry to say…
External links