Fire With Fire
Jump to navigation
Jump to search
Fire With Fire



Fire With Fire Revised Book Cover, written by Penelope King

Author(s)
Penelope King
Series
Demonblood
Publisher
Ascension Press
Publication date
October 31, 2011
Media type
eBook
Paperback
Length
293 Pages
ISBN
9781465812643
ASIN
B006284PBO
Preceded by
A Demon Made Me Do It
Followed by
Curse of Shadows and Light
For other uses of the word Incubus, see Incubus (disambiguation).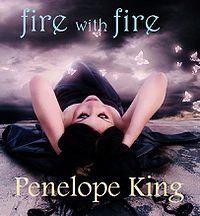 Fire With Fire is an eBook written by Penelope King. It is the second work in the Demonblood series by this author. In this series the character Bones is described as being an Incubus.
Overview
Title: Fire With Fire
Author: Penelope King
Published By: Ascension Press
Length: 293 Pages
Format: eBook & Paperback
ASIN: B006284PBO
IBSN: 9781465812643
ISBN-10: 1467929514 (Paperback)
ISBN-13: 978-1467929516 (Paperback)
Publishing Date: October 31, 2011
Other Works in this series on SuccuWiki
Plot Summary
It's been over two months since Lucky and Liora decided their fate outside the cave. Over two months since Kieron left to finish his mission.
So why hasn't he returned?
Crushed and confused, Liora finds comfort with a mysterious stranger, a guy whose motives include more than just healing Liora's broken heart. Meanwhile, Lucky finds herself in the arms of an old friend...the one who has always laid claim to her true soul.
When the reason for Kieron's disappearance becomes known, loyalties will be tested, friends will be betrayed, loves will be lost, and hope will be found. Once and for all, Lucky and Liora will have to chose their destiny. And not everyone will survive their choice.
Book Review
At the time of this article's entry in the SuccuWiki, no review was available.
External Links