Feral: Book One (eBook)
Jump to navigation
Jump to search
Feral: Book One

Feral: Book One eBook Cover,
written by Arisa Baumann
Author(s)
Arisa Baumann (Original)
Velvet DeHaven (Reissue)
Series
Feral
Publisher
Amazon Digital Services
Publication date
July 27, 2013 (Original)
October 12, 2014 (Reissue)
Media type
eBook
Length
156 Pages (Original)
97 Pages (Reissue)
ASIN
B00E6Y75FE (Original)
B00OGT2PJK (Reissue)
Followed by
Feral: Book Two
For other uses of the word Incubus, see Incubus (disambiguation).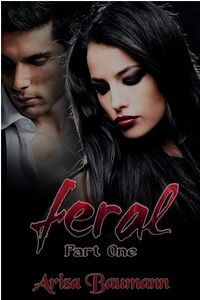 Feral: Book One, originally released as Feral: Part One is an eBook originally written by Arisa Baumann but reissued under the author name Velvet DeHaven. It is the first work in the Feral series by this author. In this work the character Simon Treviso is an Incubus. The work was reissued in 2014 under another author name with some revisions to the original.
Overview
Title: Feral: Book One
Author: Arisa Baumann (Original), Velvet DeHaven (Reissue)
Published By: Amazon Digital Services
Length: 156 Pages (Original), 97 Pages (Reissue)
Format: eBook
ASIN: B00E6Y75FE (Original), B00OGT2PJK (Reissue)
Publishing Date: July 27, 2013 (Original), October 12, 2014 (Reissue)
Other Works in this Series on SuccuWiki
Plot Summary
Original
Sofia Deering has just returned from her core studies in London when she runs, quite literally, into Simon Treviso, the alluring Humanities professor of the local university she attends. The sudden intensity to which she is drawn to him is startling, but even more so when she discovers there is more to the man than she would have ever imagined. The sexy Italian is an incubus!
Sofia learns that Simon has suppressed his dark, animalistic side for over six hundred years. Determined to encourage and release true his nature, Sofia must also navigate the new world opened to her while fending off the obsessive ex lover determined to keep Sofia for himself.
Reissue
University student Sofia Capriola, newly arrived back home from England, finds herself wildly attracted to and quite caught up in a relationship with one of her professors. But their relationship isn't the only secret he is hiding.
Book Review
At the time of this article's entry in the SuccuWiki, no review was available. Tera has this work on her reading list and will review it shortly.
External Links