Dream Lover (Dusty the Demon Hunter)
Jump to navigation
Jump to search
Dream Lover



Dream Lover eBook Cover, written by D. Michelle Gent

Author(s)
D. Michelle Gent
Publisher
Ginger Nut Books
Publication date
August 11, 2011
Media type
eBook
Length
31 Pages
ASIN
B005H2TVSS
For other uses of the word Incubus, see Incubus (disambiguation).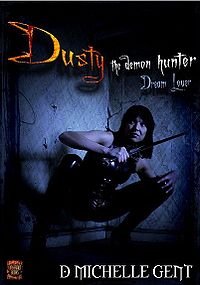 Dream Lover is an eBook written by D. Michelle Gent. It is the first work in the Dusty the Demon Hunter series by this author. In this work, an Incubus appears to threaten the main characters in the story.
Overview
Title: Dream Lover
Author: D. Michelle Gent
Published By: Ginger Nut Books
Format: eBook
Length: 31 Pages
ASIN: B005H2TVSS
Publishing Date: August 11, 2011
Plot Summary
Dusty is a teenage girl, as normal as any of her friends... the Dryads, Faeries, Nymphs, Angels, Cherubs and half-demons like her.
She has a dark past, her mother was killed by a Demon and now she is protecting herself in case that Demon comes back for her.
In the meantime Dusty travels from this world to the Astral Plane and her adventures are legendary... amongst her friends at least.
Book Review
At the time of this article's entry in the SuccuWiki, no review was available. Tera has this work on her reading list and will review it shortly.
External Links