Demon Mine (eBook)
From SuccuWiki - The Wiki of the Succubi
Demon Mine

Demon Mine eBook Cover,
written by Marina Simcoe
Author(s)
Marina Simcoe
Publisher
Amazon Digital Services
Publication date
April 29, 2017
Media type
eBook
Length
337 Pages (eBook)
377 Pages (Paperback)
ISBN
978-1521189788 (Paperback)
ASIN
B071YRFQCZ (eBook)
For other uses of the word Incubus, see Incubus (disambiguation).

Demon Mine is a novel written by Marina Simcoe. In this work one of the characters is an Incubus.
Overview
Title: Demon Mine
Author: Marina Simcoe
Published By: Amazon Digital Services
Length: 337 Pages (eBook); 377 Pages (Paperback)
Format: eBook and Paperback
ASIN: B071YRFQCZ (eBook)
ISBN: 978-1521189788 (Paperback)
Publishing Date: April 29, 2017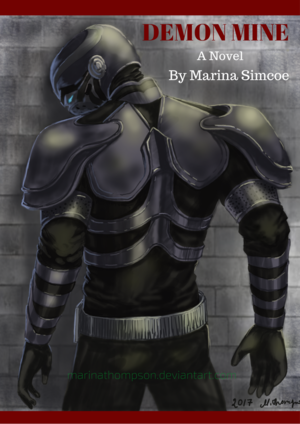 Plot Summary
They are big, strong and silent. Their faces are hidden behind masks and their bodies are enclosed in armor suits. They took me from my home in the middle of the night and have been holding me in isolation for months. I don't fully understand the purpose of my captivity. No one explains anything to me. No one even talks to me.
Nearly driven to madness, with no more hope for freedom I no longer care if I live or die. And then he speaks to me. Just a few words... He throws me a lifeline and helps me find my way back to sanity. He becomes my only companion. My light in the darkness. I suspect they may not be entirely human. What is worse is that he may be one of them.
Book Review
At the time of this article's entry in the SuccuWiki, no review was available. Tera has this work on her reading list and will review it shortly.
External Links