ConVent (eBook)
Jump to navigation
Jump to search
ConVent

ConVent Original eBook Cover,
written by Kate Paulk
Author(s)
Kate Paulk
Publisher
Naked Reader Press
Publication date
December 9, 2011
Media type
eBook
Length
279 Pages
ASIN
B006K9Q19Y
For other uses of the word Succubus, see Succubus (disambiguation).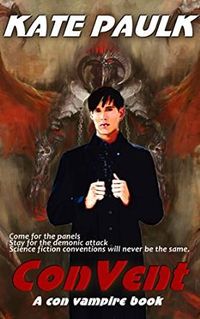 ConVent is an eBook written by Kate Paulk. In this work the character Lil is a Succubus.
Overview
Title: ConVent
Author: Kate Paulk
Published By: Naked Reader Press
Length: 279 Pages
Format: eBook
ASIN: B006K9Q19Y
Publishing Date: December 9, 2011
Plot Summary
A vampire, a werewolf, an undercover angel and his succubus squeeze. Whoever picked this team to save the world wasn't thinking of sending the very best. But then, since this particular threat to the universe and everything good is being staged in science fiction conventions, amid people in costume, misfits and creative geniuses, any conventional hero would have stood out. Now Jim, the vampire, and his unlikely sidekicks have to beat the clock to find out who's sacrificing con goers before all hell breaks loose -- literally.
Book Review
At the time of this article's entry in the SuccuWiki, no review was available. Tera has this work on her reading list and will review it shortly.
External Links