Claimed (eBook III)
Jump to navigation
Jump to search
Claimed

Claimed eBook Cover,
written by Andrea R. Cooper
Author(s)
Andrea R. Cooper
Series
Claimed
Publisher
Champagne Books (Original)
Amazon Digital Services (Reissue)
Publication date
June 6, 2016 (Original)
August 26, 2019 (Reissue)
Media type
eBook
Length
260 Pages
ISBN
9781771552387 (Original)
ASIN
B01GADLJBY (Original)
B07X3VDJBX (Reissue)
Followed by
Fallen
For other uses of the word Succubus, see Succubus (disambiguation).
For other uses of the word Incubus, see Incubus (disambiguation).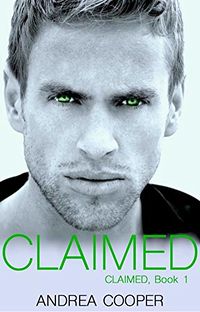 Claimed is an eBook written by Andrea R. Cooper. It is the first work in the Claimed series by this author. In this work the character Damon Cubins is an Incubus and another character is a Succubus.
Overview
Title: Claimed
Author: Andrea R. Cooper
Published By: Champagne Books (Original), Amazon Digital Services (Reissue)
Length: 260 Pages
Format: eBook
ASIN: B01GADLJBY (Original), B07X3VDJBX (Reissue)
IBSN: 9781771552387 (Original)
Publishing Date: June 6, 2016 (Original), August 26, 2019 (Reissue)
Other Works in this Series on SuccuWiki
Plot Summary
Renee Maxwell lands her dream job as assistant to archaeologist Damon Cubins in wondrous Turkey. However, she starts seeing strange things after finding a unique crystal. For one, hot Damon now looks like the sexy demi-god and underwear model of her dreams. Her feminist ideals are challenged with each bit of banter and seductive look he gives her, but she's not falling for his charm.
Time is of the essence for incubus, Damon Cubins, who must find a one-of-a-kind crystal or turn into a full-fledged demon. He has neither the time nor desire for love, but his new assistant tests his resolve. When he discovers she's got the crystal he needs to save himself, he must make a decision to either romance it from her or walk away. But can he?
Book Review
At the time of this article's entry in the SuccuWiki, no review was available. Tera has this work on her reading list and will review it shortly.
External Links