Thank you for over 5.1 million views of the SuccuWiki!
Birth of a Nation (Novel)
From SuccuWiki - The Wiki of the Succubi

For other uses of the word Succubus, see Succubus (disambiguation).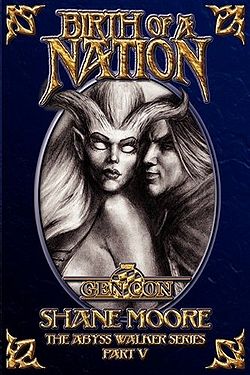 Birth of a Nation is an eBook written by Shane Moore. It is the fifth book in the Abyss Walker series by this author. The series, which have been released in various formats and collections include the works: A Prisoner's Welcome, The Breach of Crowns, The Plea of Apollisian, The Trial of Innocence, Darrion-Quieness, Death of Kings, Birth of a Nation, and Return of the Father.
In this work, a race of Succubi are a central part of the story. They are not like traditional Succubi however as their genesis did not follow the normal myths of the Succubi. Known as the Dark Angels, they are former angels turned into demons -- not because they fell from grace, but because the god (Rha-Cordan) they followed became corrupted. The angels transformed into succubi and their memories were erased by the goddess of mercy. In the story, many of them escape from the abyss to experience a world that is not shaped on evil; thus, they begin to reject their wickedness to a point.
Overview
Title: Birth of a Nation
Author: Shane Moore
Cover Art: Billy Tackett
Published By: Wandering Sage Bookstore & More, LLC
Length: 288 Pages
Format: Paperback
ISBN-10: 1933300302
ISBN-13: 978-1933300306
Publishing Date: July 5, 2009
Plot Summary
Trinidy marches his army of death across the land, forcing each kill to rise up and join his ranks. Arch devils are unleashed to hunt down the Abyss Walker. While Lance and his friends struggle to stay one step ahead, the greyshalks and the Darayal Legion prepare for a battle they cannot win.
Meanwhile, the people of Beykla, now under the disputatious rule of boy king, brace themselves as their distrustful southern brothers secede to create a new nation. As the prophecy reaches fulfillment, Delania must face the growing realization that her time with Lance is coming to an end. Can the broken crown of Beykla stand against the coming of the Abyss Walker, or will the blood of the innocent be shed before the might of wickedness?
Book Review
At the time of this article's entry in the SuccuWiki, no review was available. Tera has purchased this work and will review it as soon as possible.
External Links