Thank you for over 4 million views of the SuccuWiki!
Bad Mix
From SuccuWiki - The Wiki of the Succubi

For other uses of the word Succubus, see Succubus (disambiguation).

Bad Mix or Bad-Mix is an online comic book series created by the artist Gabriel Rocha. It originally appeared in the comic section of the Mexican version of FHM Magazine in August 2005.
The series follows a Succubus named Lorelei as she visits different people, makes their fantasies come true and then afterwards, marks them for some purpose to be explained later.
When it was originally commissioned, the series was to run for two episodes, but it was popular and a total of four episodes appeared there. Following the end of the series there, the artist decided to continue the series online at its own website. He noted that most of the fantasies shown are based on real people, generally fantasies of friends of his. He went this route so that the stories seemed more natural and realistic in nature. It also explains the wide range of characters, stories and events shown in the series.
The series appears in both English and Spanish, both versions are available at the same website.
The Succubus Lorelei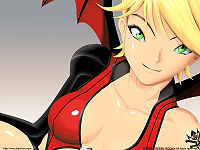 Lorelei is the main character of this comic. She is a succubus that appears to people and makes their darkest desires come true in the form of a dream that feels almost like reality. She marks her victim with a tattoo after that, promising to return to claim them for some purpose and goes in search for the next person that is calling for her.
Lorelei's natural appearance is of a medium height woman with green eyes and short blonde hair. She has been shown as having a pair of red wings on her back, however no tail or horns have been seen. Her outfit in made of something that looks similar to latex in nature. Her clothing has echos to the clothing that Vampirella wears, save that Lorelei has black latex thigh-high stockings and red shoes. Her bikini is also red on the upper half, but is black on the lower part. Finally, she also wears a pair of long black latex opera gloves to complete her outfit.
Current Series Disposition
Currently, the comic has not been updated in some time, though there are several pages of stories available. There is a G rated section and a more R rated story section on the site as well.
External Links