A Vampire Turned Me Into A Blood Gathering Succubus (eBook)
From SuccuWiki - The Wiki of the Succubi
A Vampire Turned Me Into A Blood Gathering Succubus



A Vampire Turned Me Into A Blood Gathering Succubus Original eBook Cover, written by Dwindle Gee

Author(s)
Dwindle Gee
Publisher
Noirnography
Publication date
July 3, 2017 (Original)
April 19, 2018 (Reissue)
Media type
eBook
Length
87 Pages
ASIN
B073Q2PVJ9 (Original)
B07CJL35F3 (Reissue)
For other uses of the word Succubus, see Succubus (disambiguation).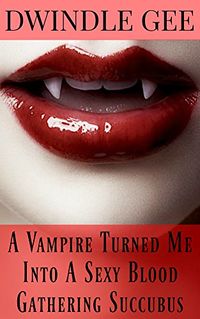 A Vampire Turned Me Into A Blood Gathering Succubus is an eBook written by Dwindle Gee. In this work the character William is transformed into a Succubus called Willa.
Overview
Title: A Vampire Turned Me Into A Blood Gathering Succubus
Author: Dwindle Gee
Published By:
Length: 87 Pages
Format: eBook
ASIN: B073Q2PVJ9 (Original), B07CJL35F3 (Reissue)
Publishing Date: July 3, 2017 (Original), April 19, 2018 (Reissue)
Plot Summary
William is a young, up and coming movie executive in 1950's Hollywood. One fateful night he has a meeting with a dark and ghastly creature, a vampire, that will change his life forever. If you like your erotica mingled with a taste of gothic and macabre horror then this is the depraved and lascivious story for you! The title pretty much says it all as we follow young William as he transforms into an icy succubus and wanders the Los Angeles night falling into one exotic and erotic adventure after another as he – now she – quests for an immortal soul to deliver to her new Master. And you will never believe how the transference occurs! Let's just say you may never think about anal intercourse the same way again! If you like your kink with a touch of the sinister then you will truly love this tale of lust, hunger, evil, and despair as demonic creatures of the night haunt and hunt in the mid-century streets of Tinseltown.
Book Review
At the time of this article's entry in the SuccuWiki, no review was available. Tera has this work on her reading list and will review it shortly.
External Links