A Demon Made Me Do It
Jump to navigation
Jump to search
A Demon Made Me Do It



A Demon Made Me Do It Revised Book Cover, written by Penelope King

Author(s)
Penelope King
Series
Demonblood
Publisher
Ascension Press
Publication date
June 14, 2011
Media type
eBook
Paperback
Length
324 Pages
ISBN
9781465748232
ASIN
B00534J7G6
Followed by
Fire With Fire
For other uses of the word Incubus, see Incubus (disambiguation).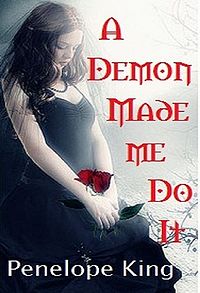 A Demon Made Me Do It is an eBook written by Penelope King. It is the first work in the Demonblood series by this author. In this series the character Bones is described as being an Incubus.
Overview
Title: A Demon Made Me Do It
Author: Penelope King
Published By: Ascension Press
Length:
Format: eBook & Paperback
ASIN: B00534J7G6
ISBN: 9781465748232 (Paperback)
ISBN-10: 0615490034 (Paperback)
ISBN-13: 978-0615490038
Publishing Date: June 14, 2011
Other Works in this Series on SuccuWiki
Plot Summary
Seventeen-year-old Liora Greyson has never been a "normal" girl. Born of a demon father and a human mother, she's what's known in the underworlds as a "demion".
Liora just wants to survive her senior year of high school, her dark secret intact. But the walls she's carefully constructed to keep people away crack wide open once she meets the sexy and mysterious Kieron Ambrose. The more she falls for him, the more worried she becomes. She can't let him find out she transforms into demon named Lucky at dusk...a demon with an entirely separate personality who spends her nights drinking, tormenting humans, slaying unsuspecting demons, and lusting after her gorgeous and unattainable incubus/hellhound BFF.
But it turns out Kieron has a few dark secrets of his own. Secrets that will either save Liora...or completely destroy her.
Fighting your demons is one thing. Having one who fights back, messes with your guy, and leaves you with nasty hangovers is total hell.
Book Review
At the time of this article's entry in the SuccuWiki, no review was available. Tera has this work on her reading list and will review it shortly.
External Links